Scottsdale Commercial Glass Products & Services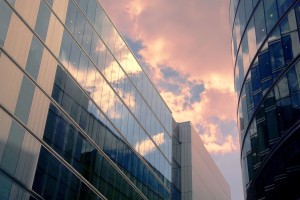 There are few contractors in Arizona who can provide reliable commercial glass repair and window replacement solutions. Superior Replacement Windows of Scottsdale is a licensed commercial contractor who provide commercial window and storefront glass repair to area retail businesses and office buildings. We have several contracts with large Scottsdale property management and commercial building management companies that rely on our customer service and quality of work to protect their investment and satisfy tenants.
Commercial glass is typically made from tempered glass for safety and strength. When it shatters, tempered glass breaks into tiny harmless pieces that can be handled by humans (although not recommended). For this reason, commercial glass cannot be repaired but rather needs to be replaced with a new panel or pane. For insulated window applications, a new tempered dual pane window will need to be fabricated which can take a few days of manufacturing. For a single pane window application (or storefront glass panels), 0.25″ glass is used and is stocked on hand for immediate installation, based on availability of our installers.
Emergency assistance through Superior Replacement Windows can be provided to secure your commercial property or store. Understanding our business customer's expectations, we supply repair and replacement services for storefront windows, entry doors, framed glass entrances and frameless glass doors which have a quick turnaround time.
Commercial Glass Products:
Interior & Exterior Glass Doors
Glass entry doors provide an elegant and transparent look to any building and have become a architectural standard for office buildings, storefront and retailers. Glass doors can break from accidents, vandalism or theft. Superior Replacement Windows can replace the entire door or the glass panel that is installed in frame.
Architectural Glass
Superior Replacement Windows is the leading supplier of architectural, textured, decorative and colored glass for residences, workplaces and commercial structures in Scottsdale, Arizona.
Custom Table Top Glass
Superior Replacement Windows supplies glass that can be customized made for large tables in a conference room, a vast array of furniture pieces and large executive desks. Our glass experts can discuss with you in person the kind of glass (safety), width, bordering and measurements required for your table top attachment.
Frameless Glass For Offices & Conference Rooms
Tempered frameless glass has many commercial applications including office enclosures, conference room enclosures and bathroom stall enclosures. Superior Replacement Windows of Scottsdale is capable of providing a wide variety of frameless glass commercial products including, enclosures, architectural structures, decorative structures, booths, showers, tubs, steam showers and indoor recreational courts. In addition to providing the glass, our commercial glaziers take careful consideration of the installation and will specify all mounting hardware, sealing and fitting required for each custom application.
Contact Our Commercial Glaziers in Scottsdale:
Superior Replacement Windows
19475 N Grayhawk Dr #1036
Scottsdale, AZ 85255
(480) 339-0977