Residential Glass Products & Services
Are you currently living in a house that has a broken window or household glass? We are your dependable choice for window replacement and glass repair services. Superior Replacement Windows in Scottsdale, AZ is a glazing experts and source for everything made out of glass in your home.
We offer both single pane and dual pane insulated glass for window repair and window glass replacement. The glass is available in a full range of thicknesses, colors and safety features. Window glass can be either annealed or tempered (safety glass is required for glass windows within 24 inches of a doorway) and is custom cut to fit your windows. We'll remove the existing broken glass and replace it with a new pane or insulated glass unit.
Complete window packages are available for homeowners who are remodeling and need an upgrade from single pane to dual pane insulated glass. Windows come in many different styles including horizontal sliding, picture frame and single and double hung. For the best thermal performance, PVC windows are the most affordable option and are durable. Most PVC windows have steel components to increase the life of the mechanisms. Dual pane glass options include low-e (standard on most models) and vary in glass thickness to provide noise reduction.
Not only do we supply the glass and windows but we also perform the installation. Window installation consists of removing the outdated windows and installing the replacement windows. Our windows are custom ordered to fit your window openings so installation can be a much smoother process. We provide the installers who are experienced in mounting, sealing and testing the new windows. All of our window installations come with a limited warranty for the materials and workmanship.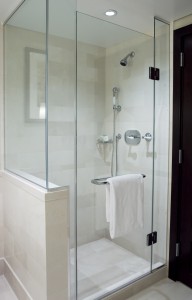 Superior Replacement Windows in Scottsdale are experts in designing, fabricating and installing custom glass shower and enclosures, bathroom shower doors, frameless shower doors, sliding shower doors and framed shower enclosures and frameless tub enclosures. To prevent water leakage and shower head spray outside of the enclosure, we use proper ventilation for water containment. Expenses are kept low by utilizing common glass sizes which reduces assembly and cutting specifications. The beauty and value of a bathroom or tub can be greatly enhanced by a properly measured and installed glass shower enclosure.
One of the most commonly broken windows in a home is a sliding glass door. Because sliding glass doors are made out of tempered glass, a rock, golf ball or other foreign object can break the entire glass door. Luckily, sliding glass doors come in standard sizes so as long as your builder used a common size, it can be easily replaced within a few days. We only install tempered or laminated safety glass sliding glass doors. Due to the size of the doors, most use insulated glass to improve the energy efficiency and cost savings.
Superior Replacement Windows of Scottsdale can create tailor made size fitted glass for any furniture piece, household table, patio table or furniture piece that has a center umbrella hole. All we need is the dimensions of the glass, type of glass (annealed or tempered safety glass), the edge finish and any special requirements. We'll order the flat glass sheet if we don't have it in stock and then cut it to the required specifications. We also deliver it and install the glass into the table.
Superior Replacement Windows offers custom mirror options for all sorts of applications  including walls, bars, vanities, bathrooms, shelving and decorative home mirrors. We'll come to your home and measure the size of an existing mirror that needs replacement or the new area a mirror needs to be hung. Our installers use the proper hardware and adhesive to make sure your mirrors are secure and last a long time.
Bow and Bay Windows
Bow and bay windows by Superior Replacement Windows are carefully selected and designed to enhance the look and value of any residence or business property. We contain a huge assortment of curved, boxed and bayed window creations and angles. Our tinted, insulated, laminated or architectural glass can be elected to bring out the performance of the bow or bay window.
Skylights and Roof Windows
Skylights and roof windows are left exposed to the elements, weather, falling debris and trees. In the case of a mishap, Superior Replacement Windows installers are professionals in the replacement of business or residential skylights and roof windows. Attention to detail is a must in making sure the required fit and sealing is achieved in order to avoid water leaks.
Custom Glass Shelves
Superior Replacement Windows will custom fit glass shelving in furniture or wall mounted. Our authorities can install an array of shapes, tinting, mirrored or laminated glass pieces.
Talk To A Residential Glazier:
Superior Replacement Windows
19475 N Grayhawk Dr #1036
Scottsdale, AZ 85255
(480) 339-0977